It's easy to find us!
Our Observatory is in Watery Lane, Newchurch, Isle of Wight and the closest postcode is PO36 0LX.
3 word address: assets.sizzled.lifetimes
Latitude: 50°39'17.52″N and Longitude: 1°13'1.40″W or you can download and save this small file which will open the location in Google Earth (assuming you have that installed) when it is double clicked.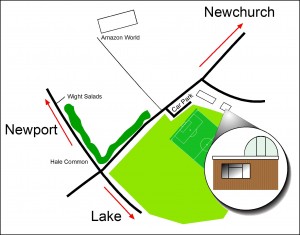 The Observatory is open to the public every Thursday evening after 8pm. If your group is larger than 6 people, please contact us, as the Observatory can sometimes get very busy.
For even larger groups, please use the "Contact" link above, and we will arrange a special evening for you.
Please note:
You will find the observatory and its surroundings are kept dark, so please, watch your step and bring a small torch with you
Astronomy can be a cold hobby, please wrap up warmly
There are no catering or toilet facilities at the Observatory
There is no charge for Thursday visits but you are of course welcome to make a donation to club funds
The Observatory is on flat, level ground and is accessible for wheelchairs. Unfortunately the fixed telescope in the dome can only be reached by staircase but we have many others which are accessible to everyone
Parking for approximately 20 cars is usually available. Should the car park be full, please be considerate to our neighbours when finding an alternative parking space, please don't block the lane
The observatory is on the main No 8 Bus Route, just ask the driver to drop you at "Amazon World"